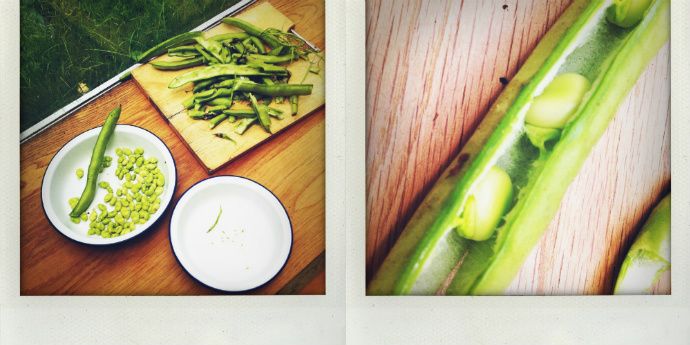 Beans and pods have been a bit of a focus this week. Broad beans from the Grandparents' garden and a walk through a field of oil-seed rape gleaned two types of pod and even provided a good opportunity to think about big and little (ever the teacher...). Actually, once you start thinking about seeds and beans you start to see them in everything. The broad beans were a source of particular interest - their feather bed pods an example of Nature's talents as a nurturer.
You will need:
Broad beans in their pods
Peas, runner beans, mange tout, oil-seed rape pods, poppy-seed heads - basically anything pod-like
Bowls
Activity:
If possible, pick the pods in situ. The further back to nature you can go, the more meaningful the experience. Choose a selection of beans, seeds and peas .

Shell the beans together taking time to look at the pods, feel inside etc.
Broad beans can be shelled by ripping off the strip bisecting the sides, but it's also fun to snap off the top and pop each one out by putting pressure just underneath the bean.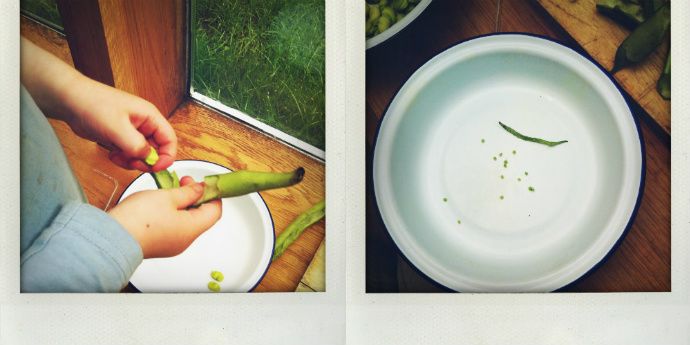 If you can get hold of oil-seed rape, you can get the seeds out in the same way - it's just a bit more fiddly. Peas in their pods are obviously a great one to explore, as are runner beans with their pink beans.
A very quick, simple one...