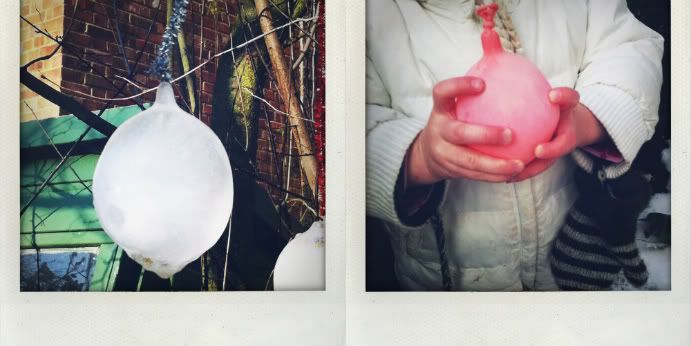 We made these during the cold snap because they looked pretty in the snow, but they can be made at any time and are a lovely way of teaching children about water freezing and ice melting. A variation on a theme of our ice decorations last year, the idea was to make something spherical. They took days to melt, but it was pretty cold outside...
You will need:
Balloons
String
Pipe cleaners
Glitter (if desired)
Activity:
Thread lengths of string into the balloons so that it reaches the bottom (one way to do this is to blow a little bit of air into the balloon and drop the string in).
Put some glitter into the bottom of the balloons.

Stretch the neck of a balloon over a tap and very slowly fill it up. Keep them small or they will be too heavy to hang.
Tie up the top of the balloon and place in the freezer.
Leave over night. You will need to take them out occasionally to disperse the glitter around the bauble (we didn't do enough of that and the glitter sank to the bottom). This provides a good opportunity for your child to see the freezing process happen.

When the baubles are completely frozen, get them out of the freezer and get your child to have a feel of them. It might be worth keeping one balloon out at the beginning so you can compare the frozen and non-frozen.
Cut the balloon off the bauble up to the knot at the top. Trim the balloon knot down as much as possible.
Twist a pipe cleaner around the string.
Hang the baubles up on a tree or outside a window and watch the melting process over the next few hours.
Or you could:
Make different shapes with long, wiggly balloons.
With older children you could make this into a real science experiment by putting a bowl underneath the baubles to measure the amount of water that drips down over the melting process (measure every hour).