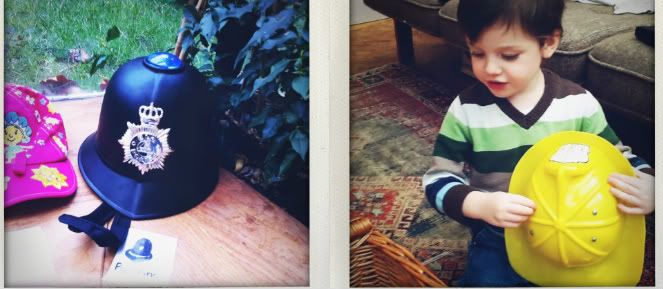 By far and away the most popular game in our house at the moment... After 3 weeks, the novelty hasn't yet worn off (except of course for me). You could play it with any hats you have in the house or have a look around charity shops etc and get together a collection of funny hats. It is another great rainy day game, although would work just as well in the garden/park.
You will need:
A selection of hats (e.g. Policeman, fireman, builders, crown etc etc).
Small pieces of card
Felt tip pens
A small bag or box
Preparation (adult or older child):
Draw pictures of the hats on the small pieces of card - one for each hat - and label each one.
Put the pictures into the bag.

To play the game:
Either adult or another child: hide the hats around the house.
Get your child to take a card from the bag. They must search for the hat on their card.
Once they have found the hat, put it and the card next to each other in a place where you can display all the hats together.
Repeat until all the hats have been found. Look at the hats and cards together and talk through each one.
To play with more than one child:
Either take it in turns to take cards and find hats, or give cards simultaneously and make it a race to find the corresponding hats. You can make it as competitive as you like!
Repeat ad nauseum...
Or you could...
Of course it doesn't have to be hats. You could play with items of clothing (perhaps to dress a doll or even a person!), necklaces and bracelets, soft toys, cars and trucks. It really would work with almost anything you can hide.
Take the hats and cards out with you and hide in a park/garden for an outside game