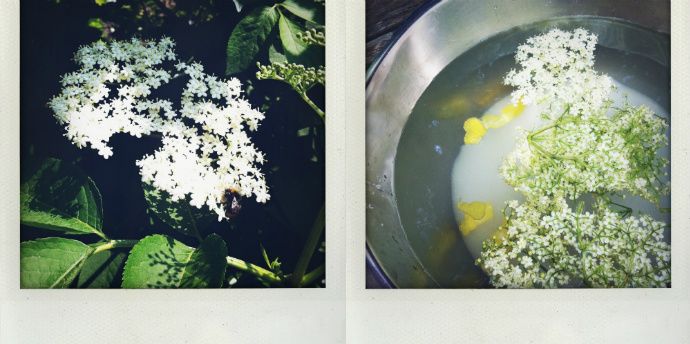 The elderflower bushes are groaning with heavy-scented flowers, just ripe for the picking. You need just a few large heads for the 'champagne' below (more for the cordial) and the crop is so plentiful, new flowers will appear the next day. The perfect thing to make with kids - just like one of their potions but you can eventually drink this one!
With many thanks to Nicola for this family recipe...
You will need:
3-4 large elderflower heads
8 pints (4.8 litres) cold water
675g sugar
2 tbsp white wine vinegar
1 large lemon
Activity:
Gather elderflower heads on a sunny day - the pollen from the flowers is what gives the scent and will be at its strongest after some sun. It's a nice activity to do on a walk with your children - they can spot the flowers in the hedgerows (and you can attempt to pick them).
Your child can trim off the stalks and shake the flowers very gently to get rid of insects.
Put the flowers in a large bowl and add the water, sugar and wine vinegar.

Peel the rind from the lemon and add to the mixture along with the juice.
Cover with a clean cloth and leave to stand in a cool place for 24 hours, stirring occasionally to dissolve the sugar.
Strain through a muslin and pour into sterile screw-top bottles.
Leave for 2 weeks. It should be bubbly and ready to drink.
So that your children don't forget about it, take a look at the bottles every once in a while to see if anything has changed in the bottles.

Or you could:
We're rather addicted to picking elderflowers now so needed a few more recipes... Cordial is also very easy but requires slightly more flowers. You also need to get citric acid from the chemist:
(From
Lotte's Country Kitchen
, Lotte Duncan, Absolute Press 2010)
450g granulated sugar
3 pints boiling water
20 elderflower heads
25g citric acid
1/2 lemon, sliced
1/2 orange, sliced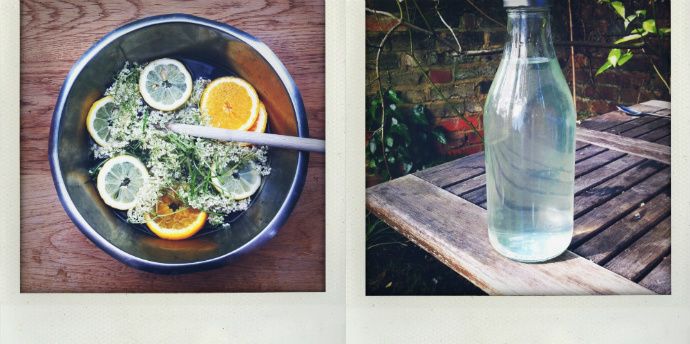 Pour the sugar into a large bowl. Cover with the boiling water, stir and leave to cool.
Add the citric acid to the cool liquid.
Shake the flowers very gently and submerge in the liquid. Add the sliced fruit and stir gently.
Cover the bowl with cligfilm and leave in a cool place for 48 hours, stirring occasionally.
Strain through muslin and then into sterile glass bottles. Keep in the fridge for up to a month or freeze 'portions' in freezer bags. Serve diluted with still or, even better, fizzy water.