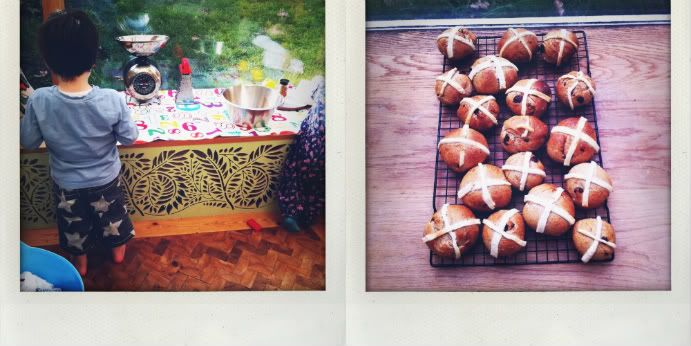 It almost feels like a waste of time making hot cross buns as they are so widely available (from Boxing Day onwards), but there is nothing quite like a home-made batch fresh out of the oven. We did all of this at kid level which was a little bit hairy with two eager toddlers (I would usually only let them do selected tasks), so didn't manage many photos...
Recipe from Sarah Raven's amazing 'Food for Friends and Family'.
You will need:
1 tbsp dried yeast and 1 tsp caster sugar
300ml warm milk and water, mixed half and half
225g strong plain flour, sifted
225g wholemeal flour, sifted
1 tsp salt
2 tsps mixed spice
2 tsps ground cinnamon
1 tsp ground nutmeg
50g melted butter
100g currants
Finely garetd zest of 2 lemons
100g ready rolled shortcrust pastry
Glaze
1 tbsp water
1 tbsp caster sugar
1tbsp milk
Activity:
Prepare all the ingredients so you are ready to mix them (I find that children are pretty unforgiving when it comes to waiting around during the baking process).
Stir the caster sugar with the milk and water mixture and sprinkle over the yeast. Leave for 10 mins.
Put the flour, salt, spices and sugar into a large bowl.
Make a well and add the yeast liquid, egg, melted butter, currants and lemon zest.
Mix well and make a dough (add more milk if necessary).

Place the dough on a floured surface and knead for 8-10 minutes. The bashing and hitting can be really fun for children (especially boys) but you need to keep them going - a song or a rhyme usually helps! Stop when the dough is elastic.
Together, roll the dough into a long sausage and then cut into 12 pieces (your child can do this with a blunt knife).
Roll into bun shapes and place them onto a lightly oiled baking sheet.
Cover and put in a warm place until they have doubled in size (an hour should be enough).
Preheat the oven to 200C, mark 6.
Spread out the pastry and cut strips for the crosses.
Put a cross on each bun, glueing it down with water or milk.
Bake the buns for 15-20 mins.
Transfer to a wire rack to cool.
Melt the glaze ingredients together over a high heat until boiling, then brush it over the buns to make them shiny.
Eat the same day with lots of butter.