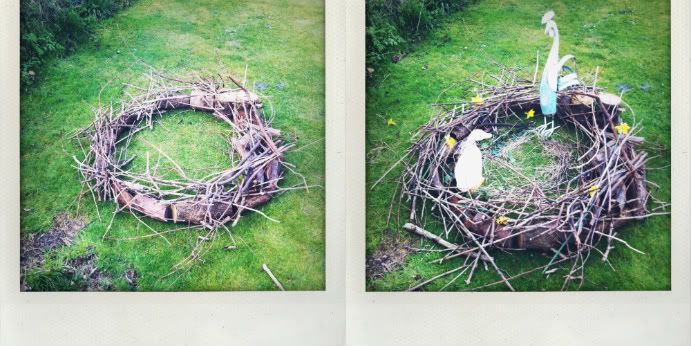 A walk in a wood provided the inspiration for this giant nest. We discovered a house built with sticks that someone had lovingly constructed and left for others to play in and, further on, a nest that had fallen from a tree... We first made a little version with some twigs and then graduated to a big one. Of course, we had to have the obligatory play-house tea (chocolate easter bunnies a little bit early).
You will need:
Small nest
A bowl or pot
Twigs
Flowers for decoration
A toy bird
Large nest
Logs/large sticks
Twigs and branches
Moss, leaves and dried grass for the middle
Balloons
Toy birds
Easter eggs
Activity:
To make the smaller nest, collect twigs and break some into small pieces so that you have a mixture of big and small.
Place the twigs in the bowl, layering them in a circular pattern around the outside of the bowl and moving inwards and upwards. Of course, it won't be as easy as that with small hands, but have a go...

Carefully turn the bowl upside down and remove. The twigs should stay in the same shape. Rearrange them so you have a hollow centre.
Put some moss or leaves in the middle and then sit a toy bird on top of the nest. Decorate with flowers and eggs.

For the large play-house nest, you work on the same principle as the smaller version.
Start with a circle of logs or big branches, just to get your shape sorted.
Gradually build up the branches and twigs on top so that you have a nest shape.
Choose some soft moss or dried grass/hay to put in the middle and decorate with ivy or similar leaves.

Decorate the nest structure with flowers and blossom.
For the eggs, we used blown-up yellow balloons and then put a selection of decorative/toy birds around the nest.
It was a lovely place to have tea (my kids always rise to the occasion, especially when there is chocolate involved) and then provided an afternoon of playtime.
It would be a great place to put Easter eggs on the day...
Enjoy!