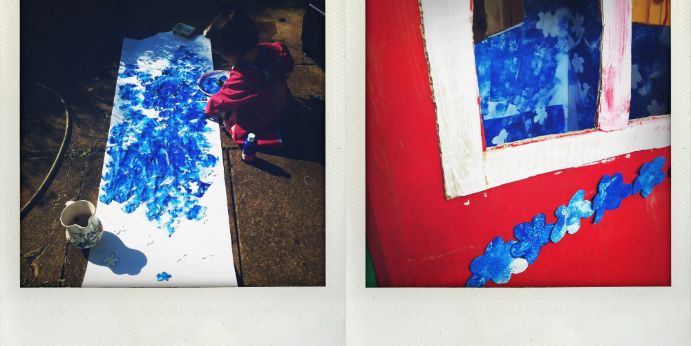 We made this house two summers ago and it has now outgrown my son but has come into its own again with my daughter who likes to play shops. The inside was looking a bit dull, so, inspired by the blossom that is frothing on every other tree and hedgerow at the moment, we made some stenciled blossom wallpaper to put up inside. A big roll of paper, sponges and lots of paint... It almost feels like summer. This idea is very effective for painting with the very young. They can splodge paint as much as they like and still have a 'picture' at the end. It also teaches them about shape and outline and it can be an exciting moment when you peel off the stencil.

You will need:
A large roll of paper (wallpaper would work really well)
Poster paint of various colours
Large sponges
Card
Blu-tac
Activity:
To make the blossom: roughly, cut out lots of small flowers from the card.
Attach the flowers to the rolled out paper with blu-tac.

Decide upon a background color (remembering that your flowers will be the colour of the paper) and squeeze it onto a paper plate or tray.
Sponge the paint onto the paper, trying to make sure that the flowers stay firm on the paper and no paint gets underneath.
Leave to dry.
Remove the card flowers and you should have a pretty 'blossom' pattern underneath.
Attach flowers to the next bit of the 'wallpaper' and repeat.
Leave to dry and use as wallpaper if desired.
Use the flowers for decoration - we put them as a creeper on the outside of the house.
Or you could:
You can obviously use anything as a stencil (remember whatever it is will get covered in paint!): leaves, real flowers, different shapes, masking tape (see below).