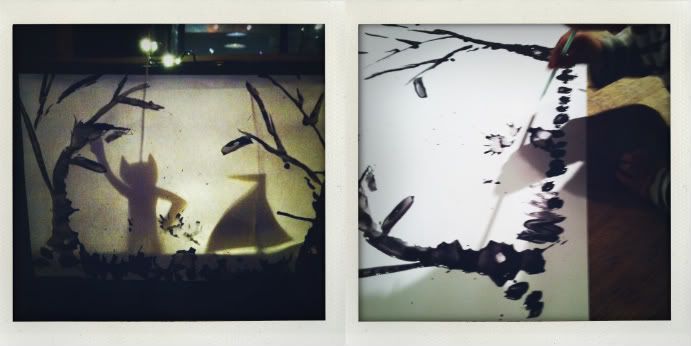 There is something Victorian about a shadow puppet show and there is nothing as Victorian as Christmas so it seemed like an appropriate thing to be doing at this time of year. This is the easiest activity to set up - you can literally make it with a torch, a sheet and a couple of toys. It's also satisfyingly educational: experiment with moving the puppets towards and away from the light and watch the shadows change size.
If you opt for the more complicated version (below), you can make the scenery with some black paint and a straw. If your child can put a straw in their mouth and blow rather than suck, straw painting makes a change from the usual.
For the straw painting:
Poster paint
Straws
Large piece of white paper
Shadow Puppet Box:
Stiff card
A cardboard box
Bamboo skewers
Selotape
Torch/fairy lights
Activity: Straw Painting
Water down some poster paint in a large pot so it is quite runny.
Drip some of the paint onto the sheet of paper and show your child how to blow the paint into shapes.

Encourage your child to experiment with blowing the paint around the paper. You could make it into a game by having races to see who can blow their paint from one end of the paper to the other.
We made trees and grass for ours, but you could do anything - just remember to leave enough white space for the shadows.
Leave to dry.
Shadow Puppet Box
Take a large cardboard box and cut out the front making a sort of TV shape.
Cut the top of the box out so that you have space to put the puppets.
Put some sort of lighting inside the box - we used fairy lights, but a large torch would do. (If using fairy lights you will need to cut out a small hole in the back of the box so you can trail the flex to the plug socket).

Stick the 'scenery' sheet over the front of the large hole in the box with selotape.
Turn on the lights and practice moving puppets or your hands towards and away from the light.
To make puppets:
You could use any story or set of characters or even just some random puppets and let your child make up a story with them - we did 'Where the Wild Things Are'.

Draw and cut out the puppets on stiff card.
Tape the bamboo skewers to the top of the puppets.
Work out the story with the puppets - you can demonstrate to your child how to do it and then let them loose on it.
Christmassy fun for a cold winter evening...

Or you could:
You don't need to make your own puppets - small toys or pictures backed onto card and cut out would work just as well.