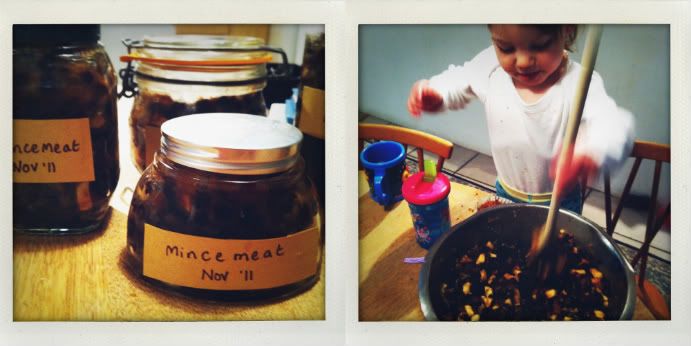 There's nothing quite like the smell of mincemeat to get Christmas going. We always used to make our Christmas cake and mincemeat in the autumn half term, but that seems to have passed us by... Anyway, this is one for all the family: simple chopping and mixing. Traditionally, everyone in the family must have a stir. This is a non-suet based recipe and the fried bananas give it a lovely sweetness.
You will need:
500g currants
400g sultanas
120g glace cherries, chopped
60g almonds, chopped
Juice of one lemon
1/2 tsp salt
1/2 tsp ground cloves
1/2 tsp grated nutmeg
1/2 tsp ground cinnamon
1/2 allspice
120g butter
3 bananas
3 cooking apples
Rind of 1 lemon
180g soft brown sugar
Brandy
Activity:
Get your child to chop up the bananas into discs with a table knife. Melt the butter in a frying pan (a low heat) and fry the bananas slowly until they have broken down. With close supervision, your child can carefully turn them over in the butter.

Peel, core and quarter the cooking apples and get your child to chop into small pieces.
Mix all the ingredients together in a very large bowl, leaving the bananas and the brandy until the end. Give your child the opportunity to pour, measure and mix with their hands.
Add the fried bananas and stir well with a wooden spoon.
Add enough brandy to make the mixture really moist.
Make sure everyone in the family has a stir.

Cover with cling film or baking parchment and leave for two days.
Sterilise jars by washing and rinsing, then putting on a tray in the oven. Turn on the heat to 150C and leave them in until the oven has heated up.
Take out the jars and put in the mincemeat while they are still warm.
Mince pies to follow...