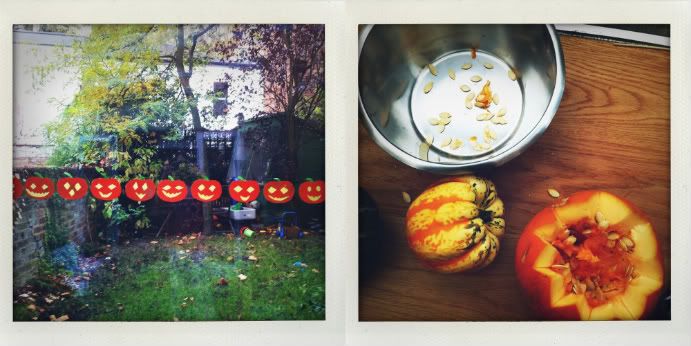 Halloween has never been very big in our house but, after a Pumpkin Hunt at Waterperry Gardens
www.waterperrygardens.co.uk/
this half term, it was very firmly on the radar. This was our own version of the hunt.
You will need:
Orange and green card
Scissors
Glue stick
Yellow tissue paper
Glitter
Pumpkin
Knife
Activity:
(Adult or older child): Draw a pumpkin shape on orange card and cut out. Draw around the shape several times and cut them out (around 10 pumpkins should be enough).

Stick the pumpkins onto the green card and cut out again, this time cutting a stalk for the pumpkins.
Finally draw and cut out faces for the pumpkins.
(Child): cut out yellow tissue paper to stick to the back of the pumpkins (to look like the candle light). Decorate some of the pumpkins with glitter.
Stick the pumpkins on the window until you need them for the game.
Cut the top of the pumpkin off and get your child to pull/spoon out the seeds and as much flesh as possible.
Cut out a face.

Game:
Hide the small pumpkins around the garden/house.
Write a speech bubble for the large pumpkin and stick it next to/behind inviting the children to look for the pumpkins.
Put prizes inside the pumpkin for the children go find when they have collected the smaller pumpkins.