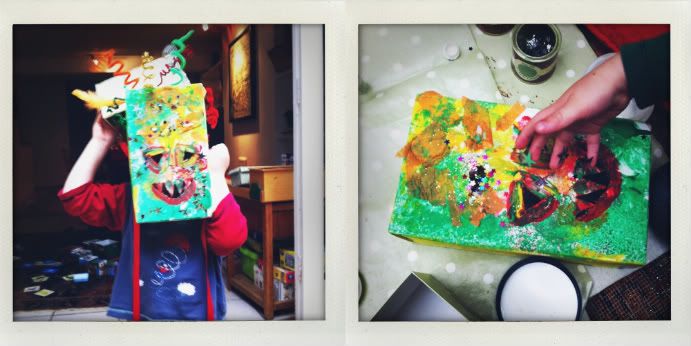 Shoe-boxes are the perfect size for a child's mask. Try a mixture of paint, glitter and paper to decorate the box and use pipe cleaners, straw, ribbon tissue paper for hair. Ours became a sort of monster but older children could plan their designs a bit more carefully. These can be great fun for dressing-up and afterwards hanging on the wall - if they have not been wrecked in the process!
You will need:
Old shoe-boxes
Knife
Paint
PVA glue
Glitter/sequins
Tissue paper
Pipe cleaners
Ribbon
Preparation:
Put the shoe-box on your child's face and mark where the eyes will need to be. Very carefully, cut the eyes and mouth out with a sharp knife.
Put out paints and a selection of sponges and brushes along with some ripped up tissue paper.

Activity:
Set your child off with painting the box. Encourage them to experiment with sponges for different effects.
Put bits of tissue paper onto the paint. It will not need any glue - the paint will be enough to hold it. Don't forget to paint and decorate the sides of the box.
Allow the paint to dry and then return to the mask with glitter and sequins for extra effect.
Pipe cleaner hair: Show your child how to wrap a pipe cleaner around your (or their) finger, then release it. The pipe cleaner will keep the curly shape.
Make holes for the hair with a skewer (obviously, a job for you and not your child!) and then feed the pipe cleaners through the holes. You can secure them inside with some selotape.
Attach pieces of ribbon or elastic to the back of the mask.

Or you could...
Collect shoe boxes and make a family of masks - different animals, the characters in a story etc.
Take inspiration from African tribal masks, Venetian and Brazilian Carnival masks and collect more interesting items to decorate them.