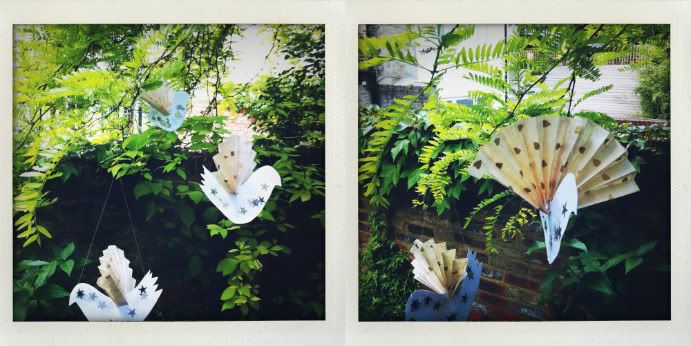 Whitsun is often celebrated during the second May Bank Holiday, although it is apparently supposed to be the seventh Sunday after Easter (which would make it June 11th this year). Anyway, for us, it was the weekend. According to '
Festivals, Family and Food
' by Judy Large and Diana Carey (Hawthorn Press) - my child-rearing bible - Whitsun is all about the white of Spring: May blossom in the trees, daisies, cow parsley. You should make macaroons and tie white ribbons in your childrens' hair... But if that all just seems like a step too far, you could opt for these pretty white doves. This activity is taken and adapted from this amazing (if a little old-fashioned) book.
NB: This is really an activity for older children, but toddlers will enjoy sticking the glitter on the bodies of the birds.
You will need:
White card/stiff white paper
Glitter
Silver stars
PVA glue
Scissors
Glue Stick
White tissue or wrapping paper
White cotton
Preparation:
Draw a bird shape on a piece of white card, fold it in half and cut out so that you have two of the same shape. Repeat a couple of times.
Pierce the double cut-out in the middle and cut out a thin strip for the wings (see picture).

Activity
Turn the cut-outs out beak-to-beak. This is so they will fit together exactly when you have decorated them.
With your child, put PVA glue on the cut-outs and stick on silver glitter and stars (or whatever you want) to decorate the body of the birds.
When dry, stick the birds back together.
Cut out a fairly large rectangle of tissue or wrapping paper (the longer the long side, the wider the wings will be).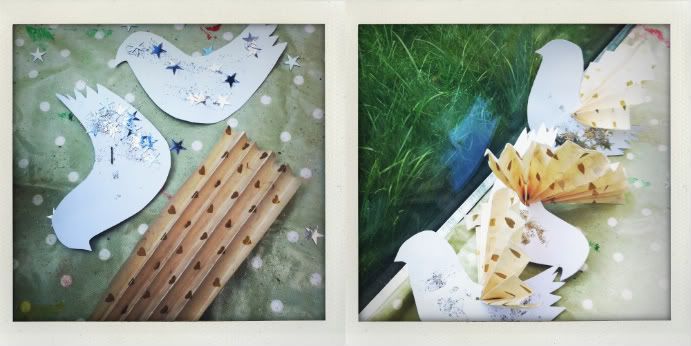 Show your child how to fold the paper into a concertina (this is not for a toddler, but older children should be able to do it once shown).
Push the end of the folded paper through the hole in the body.
Spread out the wings, so the inside ends of the concertina meet in the middle to make a fan shape.
Stick the two ends together using a glue stick.
Using a needle and thread, pierce the head of the bird and then the tail and tie the ends of the cotton at both points.
Make a loop in the middle of the thread (above the head) and knot.
Hang your birds in a tree or outside a window and let the glitter and stars catch the Spring sun...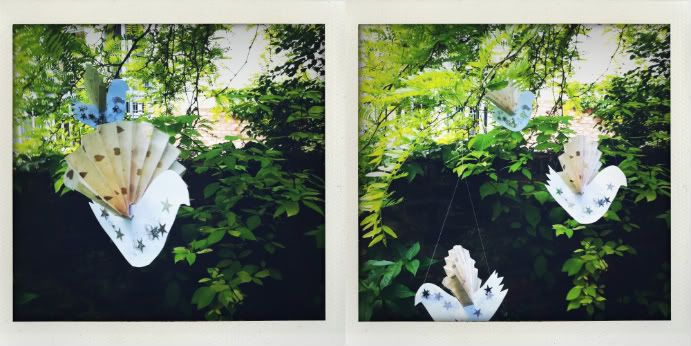 Or you could...
Adapt these birds for Christmas decorations by using lots of different coloured papers and glitters.
Make smaller birds and hang them from wire to make a mobile.