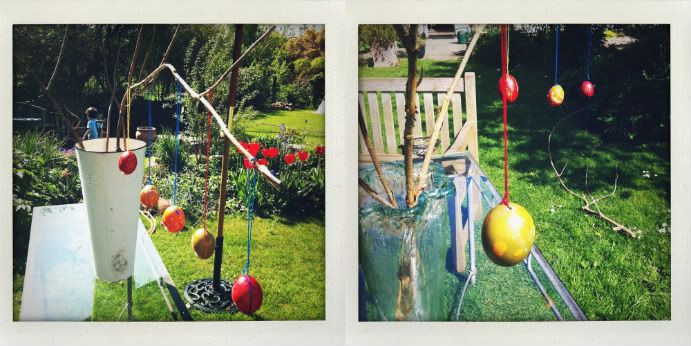 The perfect way to display the beautiful eggs you have decorated...
You will need:
Batik eggs
Embroidery thread/cotton
Needle
Collected branches
Large vase or pot
Preparation:
To thread the cotton through the batik eggs, push thread through one of the holes and keep pushing until you can see it through the other end of the egg.
Carefully guide the thread out of the bottom hole with the needle.
Pull the thread through and tie it at the top of the egg in a firm knot, leaving a long piece to make a loop.
Make a loop to hang the egg.

Activity
Go out in the garden/park/countryside and forage for branches. Talk about what sort of branch would be best for hanging the eggs. You need to look out for branches that have lots of twigs.
Put your branches into the vase or pot and, if necessary, stabalise it with small stones around the base of the branches.
Ask your child to carefully hang the eggs onto the tree. Get them to experiment with hanging the eggs at different levels.
Or you could...
Use the tree to display all sorts of Easter treats.
Make 'blossom' with tissue paper and stick it to the tree after you have hung up the eggs.